Bhangarh, India
Where is it?

The state of Rajasthan in India. Although possibly inhabited for millennia given some of the prehistoric temples, the city itself was founded in 1573 by Raja Bhagwant Das.

Hey, where did everybody go?
As legend has it, the Raja's younger son Madho Singh made his capital here, and local holyman Baba Balanath was fairly cool with it, only giving the one condition "If the shadow of your palace touches my feet, your whole city is fucked". And Madho apparently decided "You know what? Fuck Baba Balanath, I'ma shadow all over that motherfucker!" and promptly built a massive palace which, as was intended, blocked some sunlight from Baba Balanath's feet. We're not quite sure what Baba Balanath did (besides, we assume, stand up and give a Dirty Harry glare at the palace) but the city has been abandoned ever since.
There's a few other stories, but they all result in a sorcerer, shaman or demon slapping the crap out of the city, killing everyone and leaving the place haunted as fuck.

Why it's scary as hell
So many ghosts they've virtually been included on the Indian census, that and the lingering threat of Baba Balanath getting pissy if you get your dirty fucking shadow on him.
The Indian Government's Archeological Survey had a look at Bhangarh a few years ago and officially declared it haunted as fuck.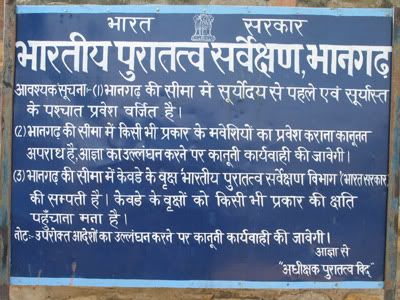 The official sign-post outside of town, translation: haunted as fuck.
Actually says "keep out at night", but you know what the hell they mean.
Watch this space for the rest of this series. Gentleman Dan also writes at
www.cracked.com